By Page Johnson
With a name like Isaac Newton Forrester you had better be smart, or at least a gifted tinkerer.  Isaac Forrester was these things and much more.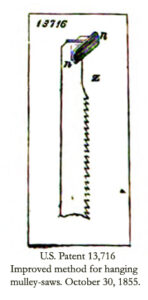 Not much is known about Isaac Forrester's early life other than he was born in New York in 1829. He arrived in Centreville, Fairfax County in the early 1850's. Shortly after, he patented the first of nearly two dozen different inventions. He is believed to have also worked as a machinist and agent for the Eagle Iron Works in Washington, D.C. at about this same time. 
The Manassas Gap Railroad (MGRR) line from the Shenandoah to Manassas was chartered by the Virginia General Assembly in 1850. It was profitable from the start. However, the MGRR had to pay the Orange and Alexandria Railroad (O&A) an annual rental fee of approximately $30,000 to use its line from Manassas to Alexandria. This was a major expense for the MGRR. Therefore, in 1853, the MGRR received permission from the legislature to establish an independent line from Alexandria to Gainesville. 
The 35-mile route would run from Jones Point, Alexandria, passing near Annandale and directly through Fairfax Court House (now the City of Fairfax) in Fairfax County, through Sudley Mill at Bull Run and on to Gainesville in Prince William County.
Entering Fairfax Court House from the east, the MGRR right-of-way was present-day North Street. The line crossed Main Street behind the courthouse and ran along the southern boundary of what is now the Fairfax City Cemetery as it headed west to Gainesville.
Almost overnight speculators began acquiring land along the route of the newly proposed extension line. One of those individuals was Isaac Forrester. In September 1856, he acquired one acre of land from Joseph Cooper immediately behind the Fairfax County courthouse on Main Street and adjacent to the new railroad right-of-way. 
Isaac Forrester intended to profit from the new rail line in a unique way – constructing a steam sawmill. 
By far the greatest improvement in milling technology was the introduction of the steam engine. First introduced into mill operations in 1830, it significantly increased output and production.(1)  Before 1830, mills required the water of falling rivers and streams to power waterwheels and turbines. Consequently, mills were usually located in the countryside, where such water courses were commonplace. 
Simple steam engines brought revolutionary changes to small towns and cities in the United States in the early nineteenth century, transforming many of them into centers of manufacturing. 
Before the advent of circular saws, such mills operated with a straight up and down blade(s) fixed in a wooden sash frame. Beginning in the 1840's, the single bladed muley saw replaced the sash saw. Instead of a frame, a muley saw was attached to a crosshead and the blade placed between wooden guides at the top and bottom. The muley saw was made of heavier gauge steel than sash saws, which allowed for heavier and longer use. Moving at a rate of 325 – 375 revolutions per minute, a muley saw was capable of sawing 8000 board feet of lumber in a twenty-four-hour period.(2)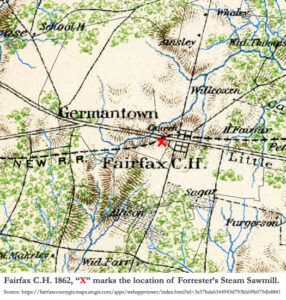 Isaac Forrester modified the muley saw for which he received a patent in September 1856. Simultaneously, with support from other community partners and his employer, Eagle Iron Works, Forrester established a steam sawmill on his property. By December 1856, he had erected a "handsome brick stack, 54 feet high"(3) on his property. The project consisted of a 40-horsepower steam engine and frame, two boilers, along with assorted piping, belts, pulleys and gears, all supplied by Eagle Iron Works of Washington, D.C. Forrester's steam mill was operational by April 1, 1857.
 Factoring in the initial $1,300 cost of the land (4) and the $2,500 expense for the steam engine and machinery (5), plus the additional expense of a brick smokestack and sawmill building, Forrester's investment was likely the equivalent of $150,000 today.
The Manassas Gap Railroad extension line likely factored heavily in Isaac Forrester's steam saw mill operations. The new railway line would permit Forrester to receive and process timber and simultaneously ship the processed lumber.
However, even as Isaac Forrester was completing his sawmill, the Alexandria Gazette reported possible trouble brewing for the Manassas Gap Railroad extension line.  
"We regret to learn that the work on the various sections of the Independent line of the Manassas Gap Railroad is about to be suspended for want of the necessary funds for more active operations. To our immediate community this intelligence will be received with regret. The completion of the Independent line at least, is of importance to the citizens of our village, especially our merchants."(6)
In November 1860, at the annual meeting of the stockholders of the Manassas Gap Railroad, the board of directors was authorized "to borrow the sum of five hundred thousand dollars to be applied to the completion of the Independent line."(7) Despite this, work never resumed on the Manassas Gap Independent line. The following April the Civil War began, and Confederate troops occupied Fairfax Court House that spring. As reported by the Evening Star:
"Fairfax Affairs – …There are quite a number of troops quartered at the Court-house, churches, steam mill, and every available means of shelter being used."(8)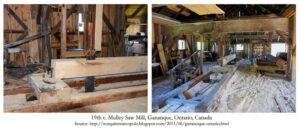 All Northern born men, including Isaac Forrester, were given just twelve hours to leave the county. According to the Evening Star:
"More Expulsions – The work of expelling from Fairfax County, Va., of many northern men is now in full blast, and we meet upon all sides those who have left there and are mostly in this city awaiting the opening of the Northern routes of travel. Mr. I.N. Forrester, who has erected a splendid grist and saw mill, was visited upon Tuesday night by a company of military, and ordered to leave in twelve hours."(9) 
Isaac Forrester and his family never returned to Fairfax.
In 1866, Joseph Cooper, along with other creditors, sued Isaac Forrester in Fairfax County Circuit Court for the money owed them for the sale of the lot and the mill equipment provided. The Civil War had devastated Fairfax Court House with buildings either badly damaged or destroyed. Forrester's sawmill building and brick chimney succumbed to these ravages, likely being taken down and used by soldiers of both the Union and Confederate armies – the lumber and bricks of the mill and chimney likely used by the soldiers to construct crude huts and chimneys.
Much of the steam mill equipment remained however, which was apparently too heavy to move. But it too was damaged as described in the chancery suit:
"…the value of the lot upon which they were secured has been very greatly impaired by the destruction of the buildings thereon [and] there is now remaining thereon the frame of a steam saw-mill & portions of the machinery thereof, which are exposed to the weather and deteriorating in value…."(10)
The one-acre lot was restored to Joseph Cooper. In the early 1870s he established Cooper's Carriage Shop on the site of the former steam mill.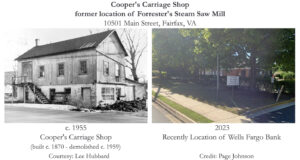 The Forrester Wheel
Among the most compelling of Isaac Forrester's two dozen patented inventions was a Rotary Wheel.  In 1867, twenty-six-years before George Ferris debuted his wheel, Isaac Newton Forrester, of Bridgeport, Connecticut, patented his Rotary Wheel.  His invention, which he likely never profited from, is the earliest patent for the Ferris Wheel that George Ferris later made famous. 
In 1870, a version of Isaac Forrester's Rotary Wheel was actually constructed at Atlantic City, New Jersey.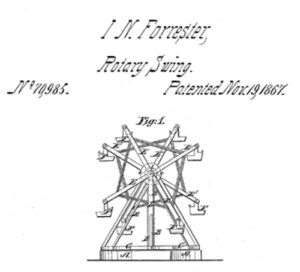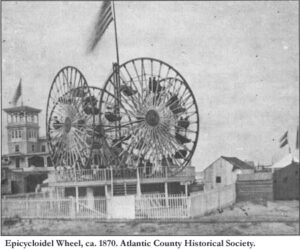 Isaac Forrester married Emma Davison, a native of Yorkshire, England, in Washington, DC in 1856. They had two children, Frank K. Forrester, who was born at Fairfax Court House in 1857, and Mary Emma Forrester, born in Connecticut in 1870.
Isaac Forrester died September 17, 1901. He is interred beside his wife, Emma, who died in 1915, in Harleigh Cemetery, Camden, New Jersey.
An interesting postscript to this story involves Isaac and Emma's daughter, Mary Emma Forrester, and son-in-law, James Wilber H. Brown, of Rhode Island, who were married in 1891.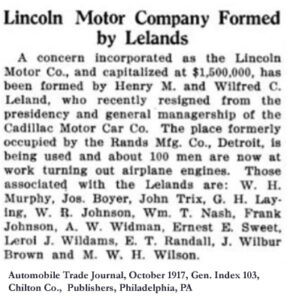 In 1915, Wilbur Brown was a machinist for the Cadillac Motor Co., founded in 1902 by fellow Rhode Island native, Henry M. Leland. When Cadillac was acquired by General Motors in 1909, Henry Leland stayed on as President of the new Cadillac Division of GM. However, after a dispute with GM President William Durant in 1917, Henry Leland, and his son Wilfred, left GM with 13 former Cadillac employees to form the Lincoln Motor Company. Wilbur Brown was among the 13 former Cadillac employees who helped form the Lincoln Motor Company.(11)
Henry Ford acquired the Lincoln Motor Company in 1922. Wilbur Brown remained with the Ford Motor Company as an engineer until his retirement in 1949 when he and his wife Mary subsequently moved to Delray Beach, FL.
---
1. Williams, Michael, Americans and their Forests, © 1989, Cambridge University Press, Cambridge, MA. Extracted from: Occupation of Socastee Bluff: Data Recovery at the Singleton Sawmill Site (38HR490), Horry County. Archaeological Consultants of the Carolinas, Inc., 2007.
2. Park, Joe, "Steam Power & the Circular Saw." The Iron Men Album, March-April 1982. P. 25.
3. Alexandria Gazette, Dec. 29, 1856, p. 2, c. 5.
4. Ibid.
5. Chancery Suit, Cooper v. Forrester, #1873-027, Fairfax County Circuit Court, Fairfax, VA.
6.  Alexandria Gazette, March 28, 1857, p. 4, c. 4
7. Alexandria Gazette, November 16, 1860, p. 3, c. 5.
8. Evening Star, June 10, 1861, p. 3, c. 3.
9. Evening Star, April 25, 1861.
10. Chancery Suit, Cooper v. Forrester, #1873-027, Fairfax County Circuit Court, Fairfax, VA.
11. Automobile Trade Journal, October 1917, Gen. Index 103, Chilton Co. Publishers, Philadelphia, PA.